The new Hospital Doctor Leonardo Guzmán has been inaugurated a few weeks ago to provide health coverage to more than half a million people in the region of Antofagasta (Chile). With an investment of more than 300 billion Chilean pesos (400 million euros), the hospital center, with more than 130,000 square meters (five times larger than the old hospital in the Chilean city), has 16 fully equipped operating theaters , six natals rooms, intensive care units with last generation technology and 79 hospitalization boxes.
Grupsa –Door Systems– Chile has installed the doors of the operating rooms for the surgical area of ​​this new generation hospital, which has the most innovative medical technology and radiological diagnosis. HS-201 hermetic doors offer a high antibacterial profile, the latest safety and activation technologies for medical personnel and wide free passages to allow the passage of beds hospital to operating theatres and recovery rooms.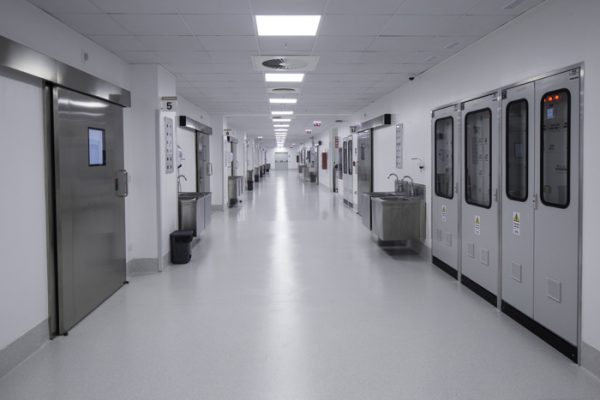 Surgical Area – Doctor Leonardo Guzmán Hospital Antofagasta (Chile)
Grupsa has also incorporated automatic glass sliding doors for the entrance to the hospital center, model AS-300 Eko, with a flat horizontal and vertical profiles that facilitate a safe and reliable passage to the users while contributing to the energy efficiency of the building. In addition, panic AS-400 units have been installed, with leaves folding system in escape routes for a quick and safe evacuation. All Grupsa products are manufactured in Spain and meet with the most demanding European regulations.