Clean system line consisting of Hygienic and Hermetic Hospital Sliding Doors with an innovative style of clean door. Doors are manufacturing with block concept and a wide range of materials and combinable finish: Stainless steel, HPL (phenolic) and glass in 210 colours. Doors can incorporate an Observation window with any standard or required by customer design, as well as Lead protection for X-Ray Rooms.
The Hermetic Hospital Sliding Doors CS-10 of Hospital System range is a strong and compact option for your Surgical Area, Positive or Negative Pressure Rooms (Isolation) or Hybrid Operating Room. Its manufacturing concept gives it a perfect integration of all the elements that make it up (fixed panel plus a mobile door leaf).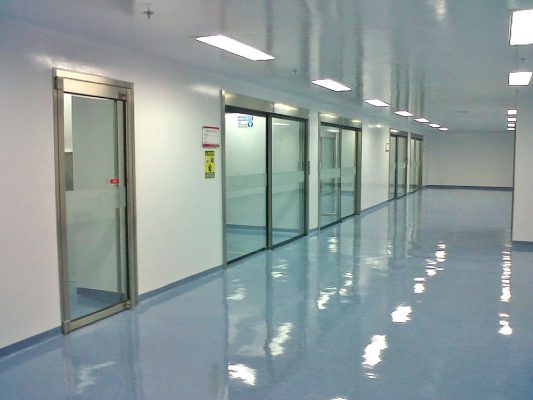 Hermetic Hospital Sliding Doors in Laboratories in Dubai (UAE)
The wide range of finishes and its antibacterial and hermetic characteristics turn it into an optimal clean door for your hospital project, in accordance with the most demanding European Regulations (EN 12207 Class 4 and EN 16005).
Hermetic Hospital Sliding Doors certified
Wide range of Finishes: Stainless Steel, HPL and Decorative Glass
Optimal option for Positive or Negative Pressure Rooms (Isolation)
Compact Concept with a perfect integration of all the panels that compose it
Available in Formats: PDF, BIM and CAD